I say to all women: "Go for it!"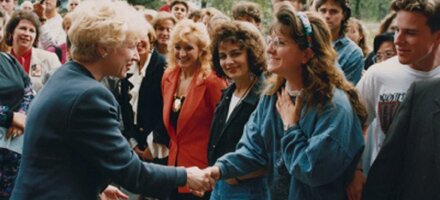 Oftentimes leadership roles are gendered masculine and women are seen as not belonging in political office, even by other women.  For many women and girls, Kim Campbell represented a serious step forward when she became Canada's first and thus far only, female prime minister.
In this clip from Gretchen Kelbaugh's independent film, Menocracy, Former Canadian Prime Minister Kim Campbell talks about why women should "Go for it."
Here's a challenge for you:  If you have been inspired by an extraordinary woman, do something about it!  It could be something as simple as thanking them and letting them know how they've influenced you, or perhaps there's some way that you can pass it on by supporting or inspiring someone else.
Let us know who inspired you and what you're doing about it.
-Sheila
Tags: Canada, Government, History, kim campbell, Politician, Politics, Prime minister, Prime Minister of Canada
3 Responses to "I say to all women: "Go for it!""