A New Kind of Club
Last week I went to Skopje, Macedonia to deliver the opening address for the National Democratic Institute's conference on the advantages and disadvantages of open vs closed candidate lists in Macedonia's electoral system.
(video)
While I was there, I met an extraordinary group of women. You see in Macedonia, they have a quota that dictates that 40 out of the 120 parliamentarians must be women and they have subsequently formed a club. The night I arrived in Skopje, I got the chance to meet members of this Macedonian Women Parliamentarians Club. I was interested to learn that they are the only body that is currently working across party lines, and even though they may have serious disagreements, they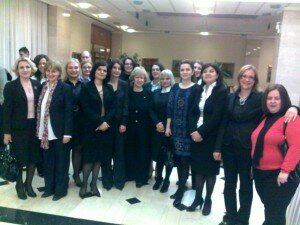 are determined to continue to work together. Because of their efforts, a committee regarding equal opportunity for men and women has been formed, and it has begun to deal with issues like domestic violence and child welfare. They've also had a huge impact on the culture of the parliament… how men feel about these issues. They've accomplished a great deal and are a model for working across party lines, which I think is absolutely necessary for the success of democracy in this country. These women really inspired me!
Many people lament the lack women running for and in political office. Have you ever thought of your country enacting a quota? What would you think about it?
Tags: advancement of women, Government, Politics, Republic of Macedonia, Serbia, Skopje, women parliamentarians
One Response to "A New Kind of Club"
Leave a Reply